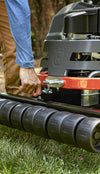 Product Info
What warranty do you offer?
Yes, we give full warranty on all products sold online. Warranty terms vary per brand, but there is a minimum of 1 year warranty with every product purchased online. Some brands such as Husqvarna, and Honda give 2 years full warranty, Cub Cadet with 3 years and Echo offer a 5 year domestic warranty. (T&Cs apply)
Who do I contact for servicing?
For servicing, you can call us on 01-8256282. We offer a local collection service for large machines such as ride on mowers etc. For repairs on all other machines, there is no need to book ahead, it can just be dropped in during our opening hours.
What brands do you carry?
We offer a wide range of brands, we have been husvarna agents for almost 30 years, along with Honda. Some more of our brands are listed on our homepage.
Order Information
when will my order ship
On average we will ship your item within 1-2 working days. You should receive your item between 3-5 working days. This can vary depending on seasonal courier traffic, and also covid restrictions. If there has been any delay in the shipping of your item, we will contact you directly and let you know what the current situation is. Bulky Items may take slightly longer as they are shipped on pallets by haulage companies. If your delivery address is within our delivery range, we will personally deliver your items and give you a full demonstration upon delivery. If this is a request you would like, please call us on 01-8256282 and we can arrange this over the phone.
how is my shipping calculated?
FREE SHIPPING NATIONWIDE ON ALL ITEMS OVER €100 OR €9.50 FOR ALL OTHER ORDERS
I have a question about my order. what should i do?
You can call us during opening hours on 01-8256282.
You can also email us anytime, you will have a confirmation email in your inbox as soon as your order has been placed. We will send tracking details as soon as your item has been picked and ready for shipping.
Company
Are you hiring?
Yes we are currently hiring. Our team is looking to grow. We are in search of both Small engine mechanic (experience required) , and full time automower technician( no experience required) . Apply within, or send cvs to the email on our homepage